Plague in Venice – Peste a Venezia
"Corruption as the Plague represented in front of the Mose"
Saturday, September 27th the Venetian artist Elena Tagliapietra moved to the site of Moses with a group of motivated volunteers, to shake the soul, not only of the Venetians, regarding the problem of rampant corruption in Venice, identifiable as a new wave of plague in our city, given the enormous social harm that resulted. The Tagliapietra, creator of the 'Human Bocolo' April 25 this year in Piazza San Marco, returns with an artistic action, 'Plague in Venice', this time not to enhance the tradition but to denounce the outrage at the fall of the moral and civic values policy.
It is an image and raw explicit, taken in front of the Mose in construction, the canal side of Punta Sabbioni: a mass of bodies helpless, who have tried in vain to defend themselves, but were overwhelmed by the scourge of human cowardice, with the goal of creating a jolt in the minds of those who insist on believing that bribe and corruption are yielding to the lesser evils.
The artist has been active for years to defend the city of Venice, with the body painting project 'Apocalypse Venice' designed with Beatrice Susa and Sebastiano Giorgi in 2009 and working for 'Veniceland' of Venessia.com in 2010, and valuing the traditions with the writer Alberto Toso Fei through the project 'Venice Revealed'. On September 26, her performance 'BlackHole' was the star of the new museum 'Vitraria- Glass + A' of Venice.
.
Articles on 'The Venice Times'   Corruption as the Plague represented in front of Mose in Venice by artist Elena Tagliapietra
Articles on 'Olia i Klod' en français  La Peste de retour à Venise
Articles on 'La nuova Venezia'
Venezia Today – corruzione-mose-opera-davanti-cantiere-video
Il Gazzettino di Venezia _  5th-10-2014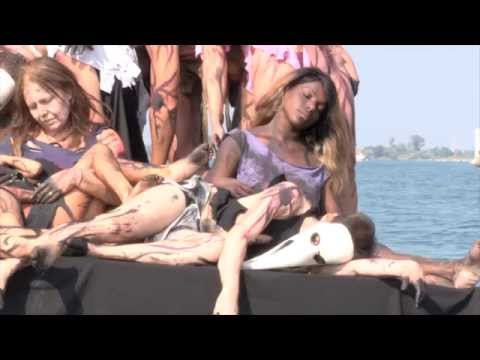 "La Corruzione come la Peste rappresentata davanti al Mose"
Sabato 27 settembre l'artista veneziana Elena Tagliapietra si è mossa verso il cantiere del Mose con un gruppo di motivati volontari, per scuotere gli animi, non solo dei veneziani, riguardo del problema dilagante della corruzione a Venezia, identificabile come una nuova ondata di peste nella nostra città, visti gli ingenti danni sociali che ha portato. La Tagliapietra, ideatrice del 'Bocolo Umano' il 25 aprile scorso in Piazza San Marco, ritorna con una azione artistica , 'Peste a Venezia', questa volta non per valorizzare la tradizione ma per denunciare lo sdegno per la caduta dei valori morali e civili della politica. Si tratta di un'immagine esplicita e cruda, scattata di fronte al Mose in costruzione, dal lato del canale di Punta Sabbioni: una massa di corpi inermi, che hanno provato inutilmente a difendersi, ma che sono stati sopraffatti dalla piaga della viltà umana, con l'obbiettivo di creare una scossa negli animi di chi insiste a credere che corrompere e cedere alla corruzione siano mali minori. L'artista è attiva da anni per difendere la città di Venezia, con il progetto di body painting 'Apocalypse Venice' ideato insieme a Beatrice Susa e Sebastiano Giorgi nel 2009 e collaborando per 'Veniceland' di Venessia.com nel 2010, e valorizzandone le tradizioni con lo scrittore Alberto Toso Fei tramite il progetto 'Venezia Rivelata'. Il 26 settembre la sua performance 'BlackHole' è stata protagonista del nuovo museo 'Vitraria- Glass+A' di Venezia.